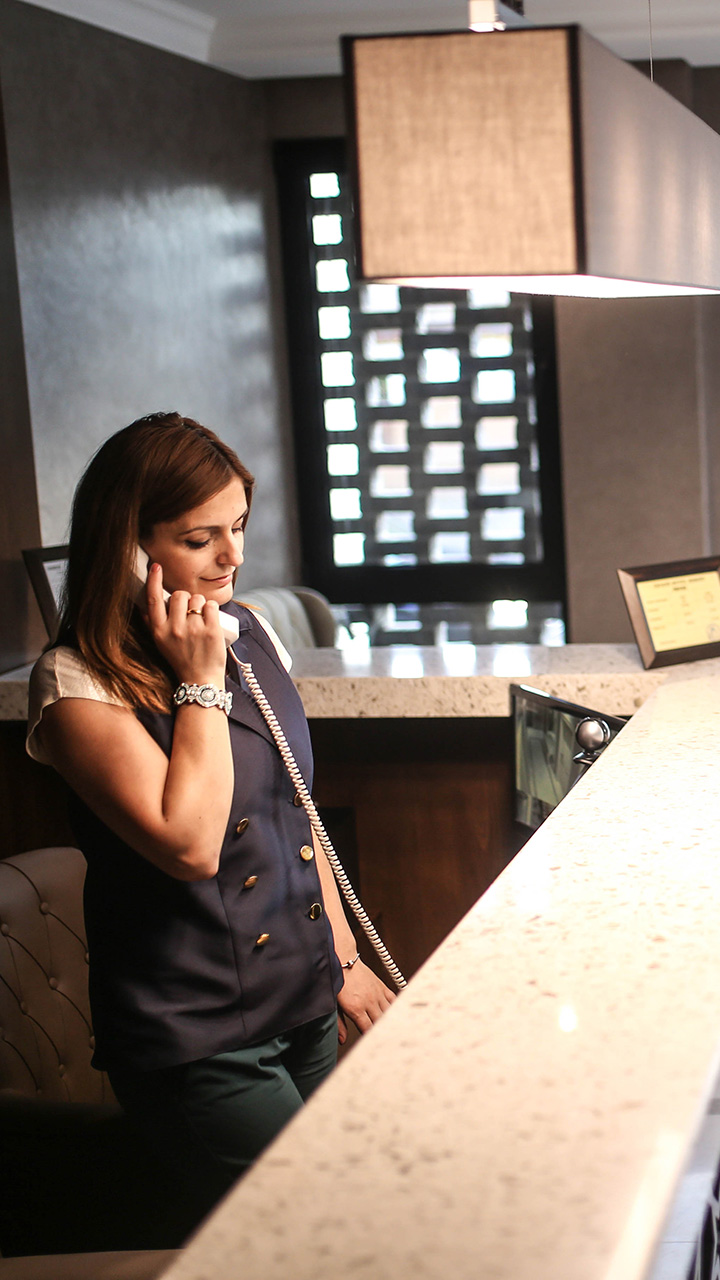 How many rooms are in the family Suite?
Luxury family room (45 sq. m) is truly unique, it is more than 95% of the rooms of this class offered by other hotels in Tbilisi! This is the best hotel room for those guests who come to rest with family!

The space of the room is divided into two parts – a living room and a bedroom. In the living room, there is a Desk, a sofa bed and two armchairs.

Smoking inthe rooms? And where can I smoke?
In accordance with the current legislation of Georgia Smoking in institutions and in public places is prohibited, but for the guests of our hotel in an isolated courtyard there are tables with chairs where you can smoke and drink a Cup of coffee or drinks. In addition, guests can smoke on the balcony of the room.
Does the reception desk close?
The reception of Grand hotel "Mimino» is open 24/24 and its services are always at the disposal of our guests.
Is it possible to accommodate Pets?
Pets can be accommodated at the Grand hotel Mimino upon prior confirmation by the hotel administration.
Are bankcards accepted in your hotel?
Ingrandhotel «Мимино" we except Visaand MasterCard. By prior arrangement for Jurypersons,accommodation costs can be playedby Bank transfer in Euros or us dollars.
Is it possible to request a large double bed?
By the request of our guests, we can provide one large double bed or two single beds.
Is it possible to request a transfer?
For our guests are available a variety of additional services, such as: transfer from / to the airport; tours and excursions in Tbilisi and throughout Georgia; car rental; accommodation of Pets by prior agreement with the hotel, etc.
Can the hotel provide a document in case of payment by corporate card?
Yes, of course, in the case of payment by corporate card we can providethe appropriate invoice and receipt.
How long will it take to get to the center?
Grand hotel "Mimino" is located in the heart of Tbilisi, just 1.3 km from Freedom square, about 1.6 km from the theater "Shota Rustaveli", 1.8 km from "Opera and ballet theatre" of Zakaria Paliashvili, 0.5 km from Sameba Cathedral and a 5-minute walk from Avlabari metro station.
Which languages does hotel staff speak?
Staff of The Grand Hotel «Mimino » speaks in Russian and English languages.
At what time does the breakfast start?
From 8:00until11:00, but by the request of the guest breakfast can be provided from 7:00.
Does the hotel have an iron and Ironing Board?
Facilities and service:

Daily maid service; electronic key card of the door; mini-bar; (refrigerator); bathroom; shower cabin, bathroom amenities and accessories; Hairdryer; toilet and toiletries; wardrobe; Desk and safe; free Wi-Fi throughout; TV + satellite channels; telephone; climate control; carpeted coverage and soundproof walls ; Slippers; towels; lift.

Additional free services:

Every 3rd day change of bed linen; Ironing Board and iron; umbrellas; free Parking under surveillance cameras 7/24 hours near the hotel; Wi-Fi in the rooms; bottled water in the rooms; services for people with disabilities; extra blankets and bathrobes.